Hey, hey! I'm back from a bizarly long summer break.
This post serves as an update to stuff I have been painting, what I have been up to and has an announcement.
First off, thanks to everyone who read and commented on my Step-by-Step Guide for how I paint a Blackguard Musician. Feedback was very positive and Idefinately will do another Step-by-Step Painting Guide in the near future. Probably something futuristic but I'll have to see. If you have any suggestions for what to do, please let me know.
That aside, I painted a whole lot of Space Wolves. This is what I mostly did the past months. It's a whole army I was asked to paint to a fairly high standard and with lots of dents and battle damage. First time I'm doing these effects on a grand scale so there was an occation to learn a lot of new things.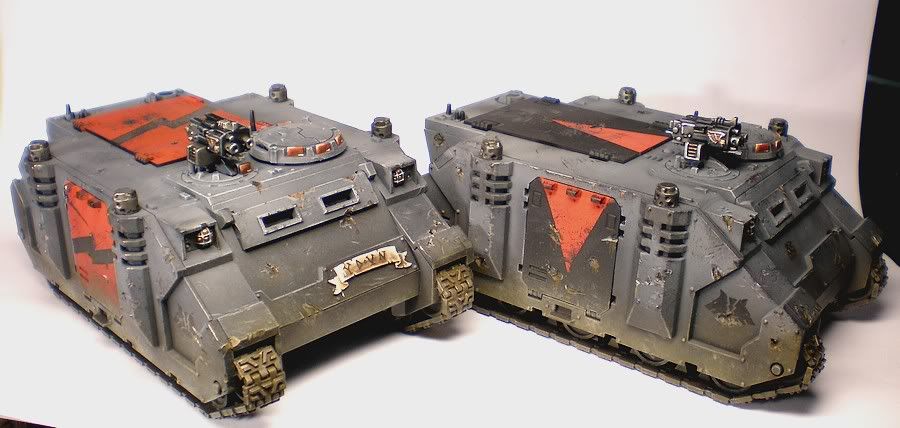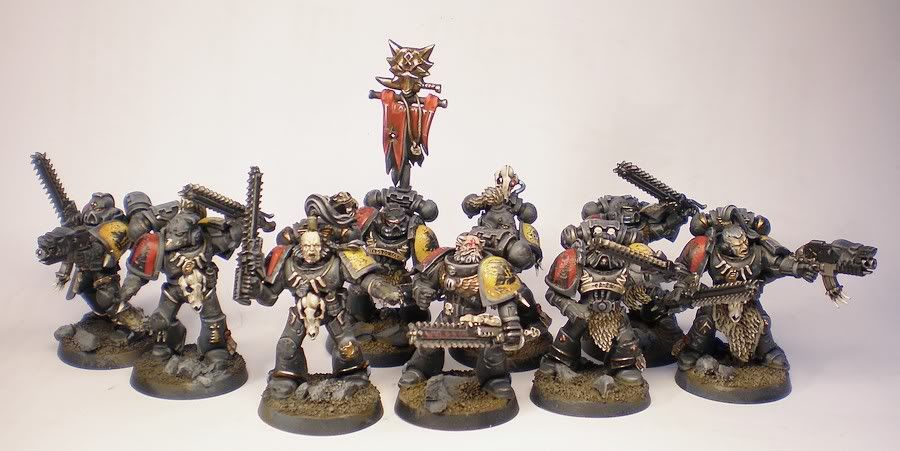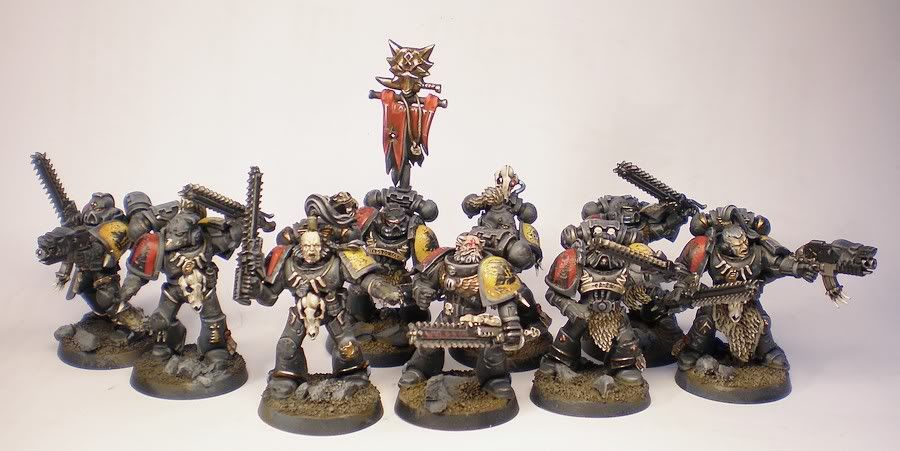 Have a look at my Space Wolves Gallery for more picture.
On a different note, I did a Brotherhood Warband for Freebooter's Fate game. Great miniatures for Freebooter. I think that their minis are Hit and Miss often but these are spot on.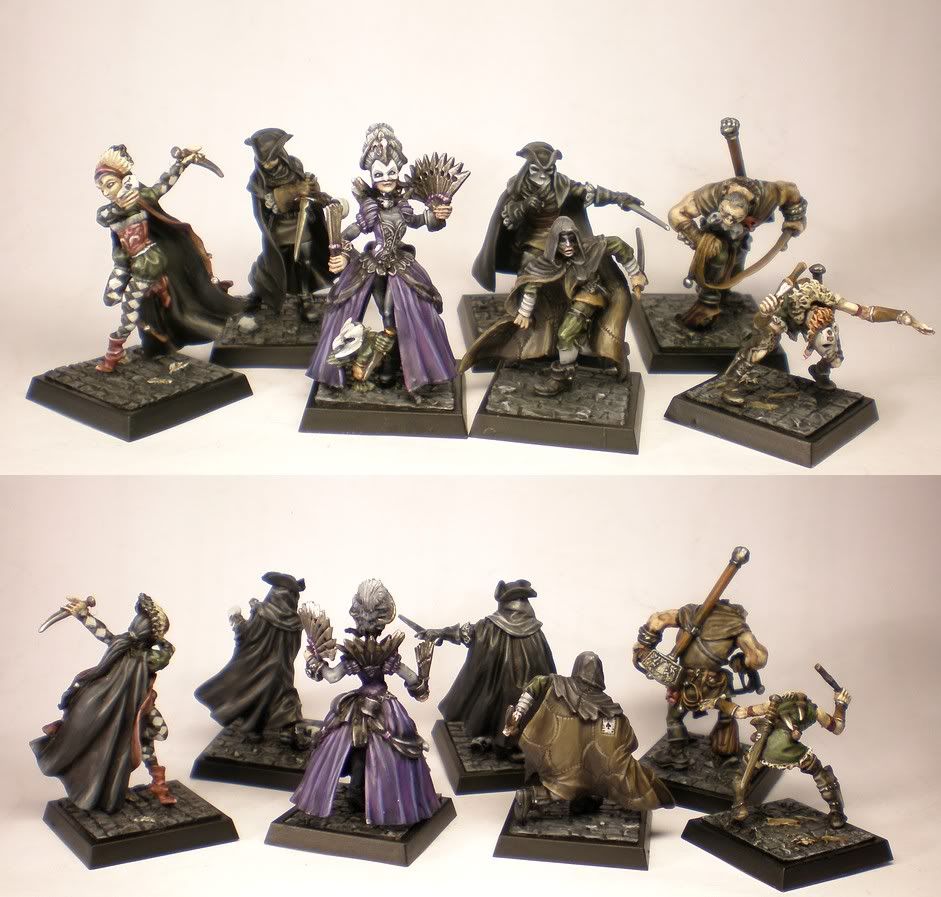 Again, please see the Freebooter's Fate Gallery for the full range of pictures.
There was other commissions too like a Goblin Hooligan for Bloodbowl, a Greater Daemon of Tzeentch…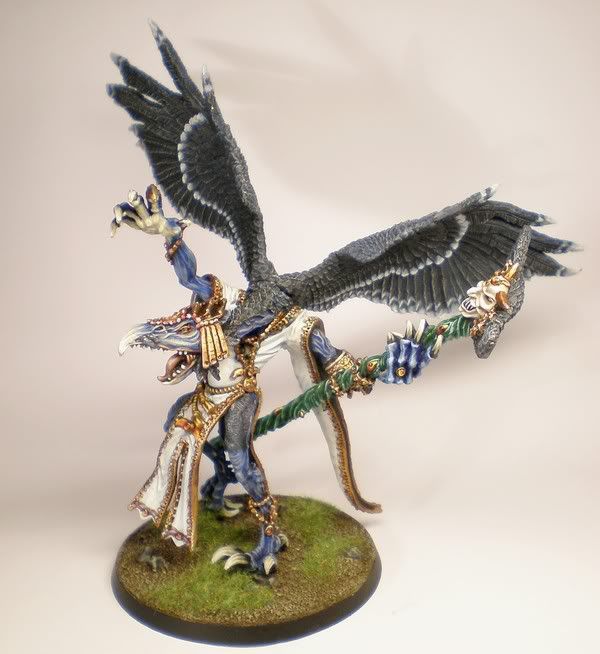 …and a Necrons Nightbringer I'm still working on.
As for events, I went to an Anime convention (AniNite2010). Yeah. Ho-hum…I thought I should do that once just to experience the craziness that is going on there. I don't watch much anime any more nowadays and the real incentive for me to go there was that these magnificent organizers brought Doug Walker (a.k.a. That Guy with the Glasses/Nostalgia Critic), Benzaie and Sad Panda to the show, all the way from the U.S. and France respectively. That probably was a once-in-a-lifetime opportunity pretty much. Here's a shot from the Q&A: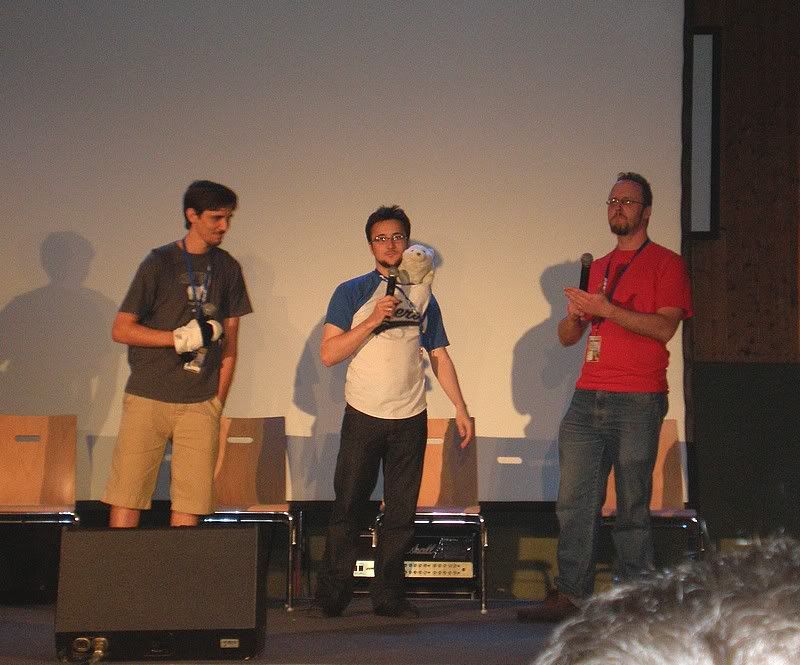 I got an autographed print of the great Kickassia Artwork made by Benzaie's girlfriend. Neat. If you have no idea what I'm rambling on about, visit http://thatguywiththeglasses.com/ for further information. (it's basically people who do reviews of stuff and other amusing videos for the internet audience).
As a general impression – I'm too old for that stuff. At least I felt very, very old at this event. Mostly probably because I'm not hugely into cosplay myself but I was indeed impressed with the effort people put into their costumes. And literally everyone there was dressed up, it was insane. And many of the costumes looked really good. I always thought the majority of cosplayers had pretty rubbish costumes and the ones you see in the pictures and videos are always the cream of the crop but all these costumes I saw (and it was impossible not to see costumes) looked good. So from one weirdo niche person to a bunch of anothers – good job, cosplayers.
A future event I will be attending is taking place on the 23rd to 26th October: Vienna Model Expo 2010. There's a little competition going on at the website of the Model Expo which I participate in. Online polls close today, the first five from the online polls will get to display their models for the whole three days for free which of course is a great opportunity for me to present some of my work to a larger audience. There will be a voting for the best model there as well which should be exciting but honestly, I find it awesome enough to display my miniatures at this event for three days. If you're quick, you still can cast your vote online.
Simply go to this link: http://www.modell-bau.at/gewinnspiel/index.html, scroll down a bit until you see the thumbnail pictures of the various entries. Choose the one you like and to cast your vote, click "Stimme für [name] abgeben" once. For example, if you want to vote for my miniatures, click "Stimme für Georg abgeben". The website won't ask you for any personal details or your e-mail adress, it's just one click and you're done. Here is a full size version of the picture of the minis I entered:
Unfortunately there is no English version of the site. It being an international expo, I really have no idea why they didn't do an English version as well.
So, that's everything I got to report really. There has been a lack of updates recently but I will update this blog more frequently again from now on. So see you soon, maybe at Model Expo 2010. 😉